Congratulations! Time to download your software and get started towards better colour management.
Your Serendipity Subscription plan will activate within 30 minutes of your purchase. To confirm your status, simply Login, go to My Account, then check the Manage Subscriptions section.
Once your subscription is ACTIVE, follow the instructions below to install, activate and configure your software.
save_alt Download & Install
Blackmagic, Megarip, or Veripress installer packages are available on our Downloads page.
Installing the Serendipity Client for more than one user or computer? You'll need to download the Stand-alone Serendipity Client file too.
Installation Instructions
Select your product (includes steps for installing the Stand-alone Serendipity Client).
check_circle Activate
Important: An active internet connection is required when activating subscriptions.
Blackmagic Server

Megarip Server
Veripress Server
After installation, run the Server application for your subscription.
Go to the File Menu > Activate Subscription option.
Login with your Serendipity registered email and password.
That's it! Your subscription is now active.
Note: Activation can only occur if a valid subscription has been purchased.
settings Configuration
In order to begin processing jobs, a Media, an Output, and a Pagesetup will need to be created.
A Media controls the settings for output, colour correction, ICC profiles, screen printing, and output screening.
An Output determines where any processed jobs are sent, either to a printer, a file location, or a remote destination.
A Pagesetup is where the Output, Media, and alternative job submission methods are assigned.
This can be done manually (requires further calibration and profiling), or by using one of our pre-configured setups - with all the calibration and profiling done for you - accessed via the Media Catalogue application.
The Media Catalogue configuration method can be used for Blackmagic, Megarip and Veripress installations.
Step 1 - Running the Software
Once the software has been installed, launch the Server application and make sure your subscription is activated.
Blackmagic Server

Megarip Server
Veripress Server
After the Server is up and running, launch the Serendipity Client application to begin configuration by double-clicking the Serendipity Client file in the installation directory or the desktop/dock icon.
Serendipity Client
The Client will connect to the active Server and display the default monitoring system – Jobs – on the screen. From this point, configuration of the system or loading a pre-configured setup can be done.
---
Step 2 - Media Catalogue Setup or Manual Configuration
Media Catalogue is an integrated application that allows users to access Serendipity's online database of Media configurations.
Media can be downloaded and added to the Workbench database automatically, so you can begin proofing and printing straight away.
The feature is accessed via the Serendipity Client Help menu and can be used for Blackmagic, Megarip, and Veripress products.
Manual Configuration of your print media may be required if:
A pre-configured Media is not available for your printer and/or paper.
You're configuring your Blackmagic media for contract or press proofing.
You want to control your colour management to get the best performance from your printer.
Media Catalogue Setup
The easiest and quickest way to get setup, ready for printing or proofing.
Watch the Youtube video
Calibrate a Printer using RGB Mode
Using the Serendipity Client to manually configure a printer for RGB output.
Watch the Youtube video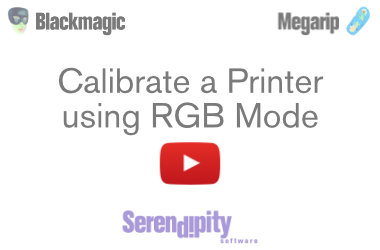 Advanced Calibration - 1-bit CTP Proofing
For information on using Blackmagic / Megarip's own native screening, recommended for 1-bit CTP RIP proofing, refer to: How to Calibrate a Printer

For detailed information on specific modules/applications mentioned, see the relevant sections of the product manual.
---
Blackmagic / Veripress Only - Assign a Special Colour Set
In the Serendipity Client window, select Server menu > Server Settings (Preferences).
Select the Colour tab.
Click on System Specials and select Reference-Lab (or your own specials) and click OK.
Click OK to dismiss the Settings window and apply any changes.
Jobs Interface
Workbench Application
---
Need Expert Assitance?
If you have a unique configuration or complicated calibration, contact one of our Experts to arrange support. Fees may apply.
Where Can I Find Product Manuals?
Product Manuals can be accessed via the Serendipity Client Help Menu, or you can download a PDF by clicking the button below and selecting your subscription.
My paper type isn't listed, what do I use?
For prints other than commercial proofs, choose a Media using paper of a similar weight (thickness) and surface finish as your printer paper.
Do I need to calibrate my monitor for soft proofing?
You sure do. Without calibration, proofing won't be accurate. For help on monitor calibration, check our Knowledge Base article.
Where Can I Find More Information?
Our FAQ page has a variety of questions that may help you find what you're looking for. You can always Contact Us with any other questions.